Tools
Service and support
Talk To Our Experts
Industrial / High Bay | IL450 Series
The IL450 Series is a technologically advanced LED industrial luminaire available in numerous choices of optics and versatile mounting systems for variety of mid-high bay industrial applications. Its robust die-cast aluminium housing incorporates a patented air bi-pass convection system ensuring long LED life with extended lumen maintenance and virtually zero fixture maintenance.
The proprietary reflector controlled optical system delivers high efficacy, glare-free uniform lighting for exceptional visibility in all production processes. The IL450 is an IP68 rated robust industrial fixture available with optional wireless smart control.
Available in 100 ~ 220Watt configurations with various optics

Ultra-bright industry leading high efficacy up to 170 lm / W

IP68 rated tri-proof (dust, vapor & water-proof) luminaire

Available with supplemental Upward Lighting Module for retail applications to maximize space and comfort

L70 ≥ 150,000 hours with an exceptional 10-year limited warranty

Designed and engineered in the USA

Applications
Manufacturing Plants

Warehouses

Cold Storage Facilities

Telecom Centers

Supermarkets

Retail Stores

Airports
Indoor Application Lighting
Automotive Center
Light Emitting Designs IL450 LED industrial lights were installed in a chain of automotive repair centers and car wash facilities in California, USA. The projects required IP68 (air, vapor and dust proof) rating because of the exposure to dust, exhaust fumes and various pollutants.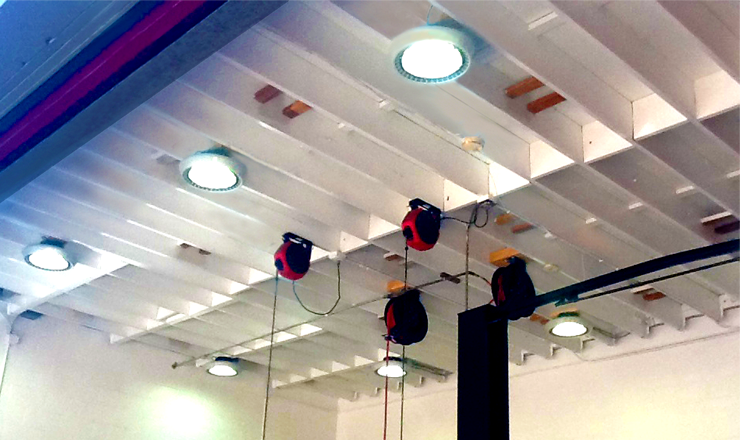 Automotive Center
Machining Shop
North Coast Church
Caterpillar Inc. Inspection Area